Zwickau celebrates its 900 years anniversary in 2018 with the highlight being the Festwoche with a Festival of Lights in the city centre in may. We want to shed some light on Zwickaus architecture with a new kind of cityscapes. Even today, looking at the cityscape, one can see why Zwickau once was regarded a rich city – for centuries thanks to the mining industries in the ore mountains (Erzgebirge) and later as one of the cradles of germany's automobile industry and an industrial centre. During WWII Zwickau remains one of a few large cities to be spared major destructions and so today it can still present itself with a cohesive historical city centre.
Here is an overview of our finnished streetlines from Zwickau – the Hauptstrasse, the old main business street, and the market square are examples of the historic character of the city centre.
So far we documented about 50 street and square views of Zwickau and here we present some views still work in progress:


Zwickau | Hauptstraße. This is the continuation of our published Hauptstrasse panorama and includes the second large department store building, the former Horten.

Zwickau | Schumannstraße. Following the economical problems after german reunification and a massive population decline Zwickau struggles to keep all its historical buildings in shape, as can be seen in this street front of once impressive Gründerzeit buildings.


Zwickau | Schlachthofgelände. An example for industry architecture is the large slaughterhouse in Zwickau-Pölbitz, built at the end of the 19th century. This is one complete building of the complex.


Zwickau | Priesterhäuser. The Priesterhäuser (english priests buildings) in the city centre are part of the Museum of City History today.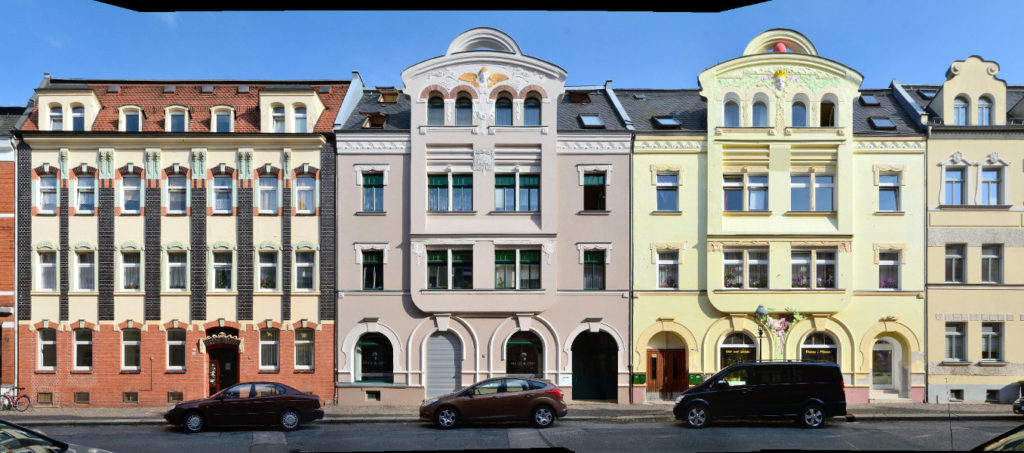 Zwickau | Friedrich-Ebert-Strasse. Art Nouveau Style Buildings

Zwickau | Main Station. The current main station was built in Bauhaus style in the 1920s.

Zwickau | ibug im Eisenwerk. Zwickau has been the location of the ibug (Industriebrachenumgestaltung), which is a renowned streetart festival attracting about 100 international artists each year (in 2018 in Chemnitz), in 2013.  Here we see a part of the old iron work (Eisenwerk) with ibug artworks.
---
Our published streetlines from Zwickau can be printed as art prints and delivered on demand. Examples below show the Market Square and the Hauptstraße as Canvas Prints: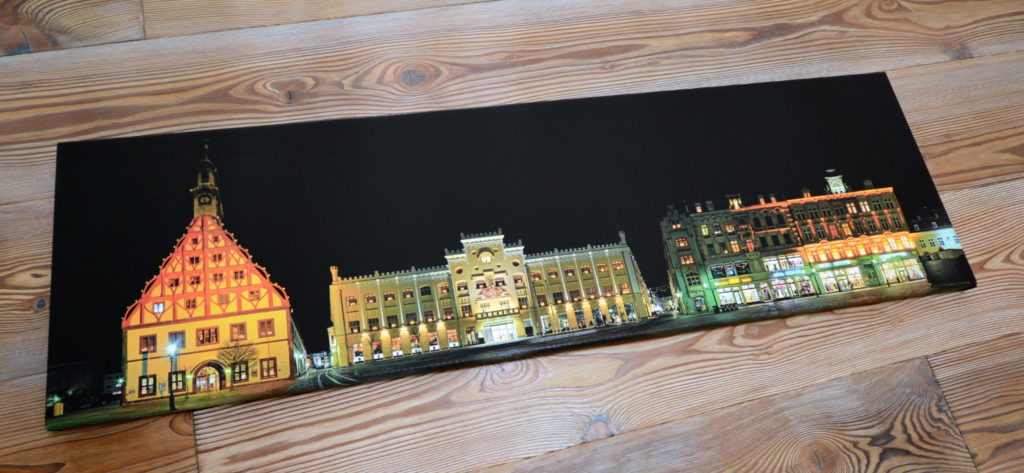 Zwickau | Markt mit Rathaus und Gewandhaus | 100 x 30 cm | Canvas Print | 95€

Zwickau | Hauptstrasse | 110 x 20 cm | Canvas Print | 90€
If interested in an individual print, please find more info in our Shop-area or contact us directly.