Lyon, with its impressive history of more than 2.000 years, has a surprisingly homogeneous architectural character. It was declared a UNESCO world heritage site for its historical city quarters in 1998. That includes the old town (Vieux Lyon) with the Fourvière west of the Saône river, the central Presqu'île between the Saône and the Rhône, as well as the slope towards the Croix-Rousse hill, once the home to the silk industry in Lyon. Lyon is boasting less with its flamboyant architectural highlights, but with a consistently high quality of its architecture and its cohesive cityscape.
Whereas most cities are oriented along their former city walls, Lyon is primarily oriented along the two rivers that meet in the city – the Saône and the Rhône. Accordingly lots of cityscapes show the shores along the rivers. Another distinct factor in Lyon are the squares within the Presqu'île. The large Place Bellecour in the south and the Place des Terreaux with the city hall in the north, as well as other smaller places in-between. Of course there is also a number of important churches, with Lyon being especially important for the French Christianity, above all the Basilica Notre-Dame de Fourvière standing high above the old town Vieux Lyon. The medieval old town as well as the slopes of Croix-Rousse are characterized by its narrow streets and alleys.
The Rue de la Republique represents Lyon within our 101cityscapes project.
Here we collect all finnished streetline cityscapes from Lyon:
Our material from Lyon was originally photographed for a crowd funding project in cooperation with the Institut Francais. For the project we portray german-french twin towns to present them in a combined exhibition in Leipzig.
Our archive features material for about 50 linear cityscapes from Lyon, some that are work-in-progress are shown as previews below:

The Rue de la Barre, on the right we see the Place Bellecour.

Place des Cordeliers with the Chamber of Commerce (Palais du Commerce, left) in Presqu'île. Also on Place des Cordeliers, but on the opposite site, one can find the building we show in our (unfinnished) title image at the top of this page.

Quai St. Vincent along the Saône with the church Notre Dame Saint-Vincent.

Quai Fulchiron on the other side of the Saône in the Vieux Lyon quarter, with the Fourviere hill in the background.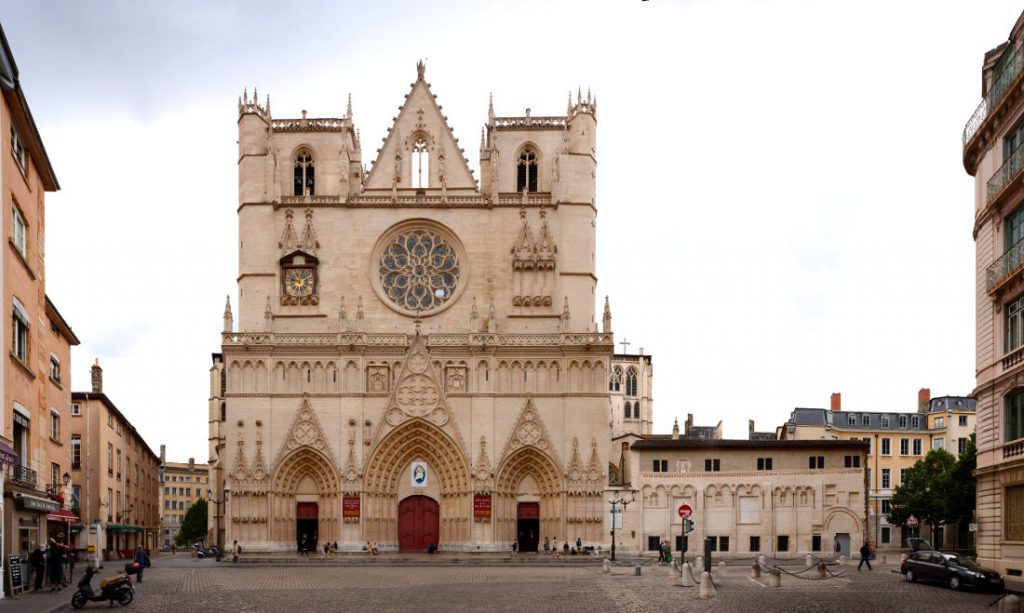 The cathedral Saint-Jean-Baptiste within the old town quarter Vieux Lyon.

The narrow street Montee de la Grande-Cote on the slopes towards Croix-Rousse.

One of the two main stations in Lyon – Part Dieu east of the centre.
The Avenue General Brosset also east of the centre and the Rhône close to the old train station Brotteaux.

And for a preliminary close this is a test work (no finalizing planned) of a side front within the crypt of the Basilica Notre-Dame de Fourvière.