Saxon State Prize for Building Culture 2019
Sustainable construction and digitalisation in Saxony
A contribution by the Chamber of Architects Saxony
The basic assumptions for construction have changed in recent years; they have become more complex in many respects. A building structure must be measured against constructive, functional, innovative, creative and social standards as well as its integration into the urban environment. The aspect of sustainability is no longer neglected.
Sustainability in architecture, urban development and spatial planning means remembering that resources are finite, areas are not unlimited and that the space built meets various user demands. Energy-efficient, intelligent and flexible solutions must also have a positive effect on the service life of buildings.
Another important principle of sustainability is the further development of the existing building stock, combined with needs-based qualitative adaptation and careful renewal. Due to the shortage of spaces in cities, a resource-conserving approach is important, e.g. through the conversion of buildings. In addition, the use of urban densification potentials with simultaneous upgrading of urban quarters and public spaces is also gaining in importance.
With the digitalization of almost all areas of life, technological development has accelerated immensely. This is also having an increasing impact on architecture and urban planning. Digital processes – from the first draft to the complete planning, its execution and the use of building structures and outdoor facilities – lead to an expansion of the creative scope with regard to design language and building materials. Smarthome, Smart Cities, e-mobility or autonomous driving constituted new terms for the field of urban development, which significantly influence and realign planning processes.
Saxon State Prize for Building Culture 2019
In view of these developments, the Free State of Saxony, together with the Chamber of Architects Saxony and the Chamber of Engineers Saxony, awarded the Saxon State Prize for Building Culture 2019 (Sächsische Staatspreis für Baukultur) under the theme "Sustainable into the Future".
The result is remarkable. Out of 24 submissions, six projects were awarded with the state prize or a recognition. These projects are exemplary of sustainable construction and digitalisation in Saxony.
Awarded with the Saxon State Prize for Building Culture 2019: The Holzhaus Leipzig-Lindenau by ASUNA atelier für strategische und nachhaltige architektur, Bauherr: Baugemeinschaft Z8 GbR (Photo: Peter Eichler)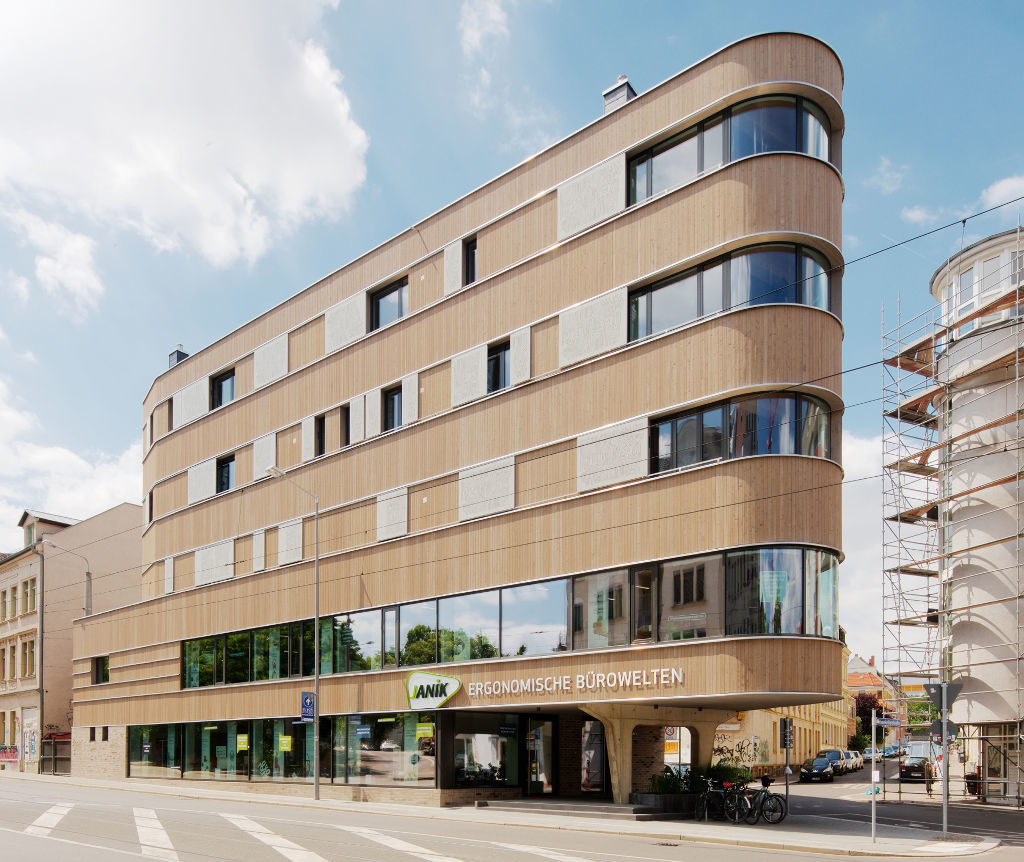 Recognitions:
Extension for the Barkhausenbau, TU Dresden by SHP Architekten GmbH, Builder: Freistaat Sachsen, Sächsische Immobilien- und Baumanagement, NL Dresden II

Kutscherhaus, Dresden DENK-MAL-ANDERS by Gerd Priebe Architect & Consultants, Builder: Katrin Gräf, Gerd Priebe

Redevelopment Hauptbahnhof Chemnitz by Grüntuch Ernst Architekten, Builder: Verkehrsverbund Mittelsachsen GmbH

Kulturpalast Dresden by gmp Architekten von Gerkan, Marg und Partner, Builder: KID Kommunales Immobilienmanagement Dresden

Bio-Fassade "NFK-Bio LIGHT" by fried.A – Büro für Architektur mit TU Chemnitz, Builder: richter & heß Verpackungsservice GmbH
| | | |
| --- | --- | --- |
| | | |
| Extension Barkhausenbau, TU Dresden, Foto: Steffen Spitzner | Kutscherhaus, Dresden DENK-MAL-ANDERS, Foto: Gunter Binsack | Redevelopment Hauptbahnhof Chemnitz, Foto: Jan Bitter |
| | | |
| Kulturpalast Dresden, Foto: Christian Gahl | Bio-Fassade "NFK-Bio LIGHT", Foto: Silvia Giadino | |
About the Chamber of Architects Saxony (Architektenkammer Sachsen)
The Chamber of Architects Saxony (AKS) is a chamber of freelance professions, corporation of the public right, profession agency and self-administration for more than 3.100 architects, interior designers, landscape architects and urban planners in Saxony. It was founded on 13 April 1991 as an important regulatory instrument in the fields of planning and construction in the Free State of Saxony and thus is a part of indirect state administration. The Chamber of Architects is based in the House of Architects in Dresden together with the AKS Academy, the AKS Pension Fund and the Foundation of Saxon Architects.

This article is also a part of the exhibition Germany Street Fronts.