Here comes our first map!
With finnishing the fourth side of the Rynek, the main market square, in the polish city Wroclaw (Breslau in german) we thought this would make a great map to look at and see all the facades around the square in place. And we added an unfinnished view of one of the four sides of the middle block, which occupies the centre of the square: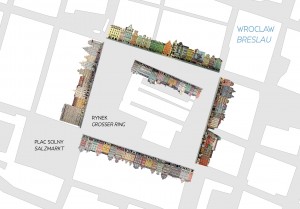 Also it looks like we can add some more views we work on from time to time and get a more complete map view… Watch out for other street maps from more cities we will come up with in the future!
Btw, when we were in Wroclaw for the second time recently, we presented this foldable flyer as a fold-yourself-Rynek.