This project is part of wunderbar together the Year of German American Friendship.

From mid-June to mid-July, the Goethe Pop Up Seattle was the first host of our exhibition Germany Street Fronts. Jörg Dietrich was present at its finnissage, as a part of his USA trip, and had a conversation with the Seattle based architect Kira Jungfleisch. In the discussion, the two gave the audience insights into the work of PanoramaStreetline and a comparative overview of German and US-American architecture and urban structure. The ensuing discussions with the visitors quickly developed in the direction of asking which streetlines could be photographed in Seattle.
Impressions of the Finnissage, provided by the team of the Goethe Pop Up Seattle:
In Seattle our exhibition Germany Street Fronts was presented in 14 exhibition panels, which were flexibly presented on Sysboard Fold walls depending on the room situation:
First test previews of two streetlines from Seattle already exist, of which at least one finished streetline will be shown in the exhibition in Houston: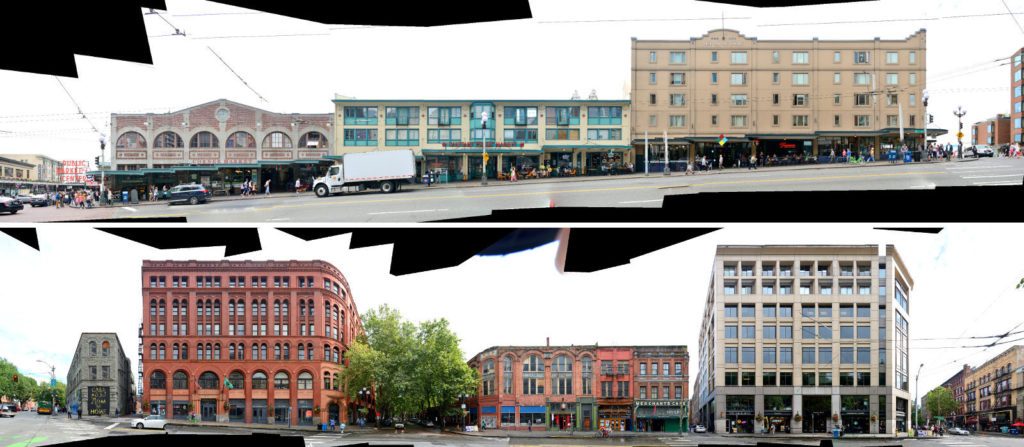 1st Avenue, Pike Place Market | Yesler Way
Next stops of the exhibition are Kansas City Goethe Pop Up in september and Houston Goethe Pop Up in october.
PARTNERS
For the realization of this exhibition we especially thank our supporters, the City of Leipzig, the City of Heidelberg, the Deutsche Fachwerkstraße – German Half-Timbered-House-Route, the German UNESCO world heritage site association, the Architektenkammer Sachsen – Saxon Chamber of Architecture and the Bundesstiftung Baukultur – Federal Foundation for Building Culture.