RECONSTRUCT is a currently running exhibition at Blue Lotus Gallery in Hong Kong. It features two artists who work with the reassembling of photographs. Stefan Irvine presents his Hong Kong Streetlines, which were created in collaboration with us. The second artist, Alexis Ip is known for his 3D 'Fotomo' collage; hand-cut collages of vernacular Hong Kong street scenes.
RECONSTRUCT
by
葉家偉
Alexis Ip & Stefan Irvine
 will take place at Blue Lotus Gallery 
Hong
Kong
 from 9 August to 15 September 2019.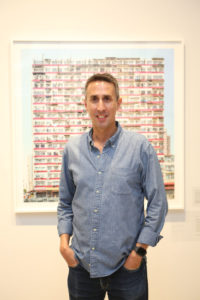 Stefan presents his streetline work under the title 'The Last Tong Lau' (唐樓) – relating to the Chinese "Shophouse" buildings, predominantly depicted. These are a type of tenement architecture that has been very common throughout southern China for both commercial and residential use. The production process for these linearized cityscapes demands meticulous planning and careful attention to detail. Stefan Irvine often makes repeated trips to each location, painstakingly capturing the entire facade of the buildings at precise intervals and distances. Afterwards Jörg Dietrich and his panoramastreetline team merge and manipulate the images to create an expansive, seamless panoramic image, creating a singular visualization of an entire street front. This stitched perspective allows the viewer to experience the life of a whole city block with more information and greater detail than can be achieved in one single photo. These streetlines become vital historical documents for these Hong Kong communities as several of the blocks showcased have been earmarked for demolition or significant redevelopment by the city's Urban Renewal Authority.
Two recent works we created with Stefan Irvine that are not yet published on panoramastreetline are on display at Blue Lotus Gallery
Alexis Ip's photographic shop scenes are collages in which he reorganizes his photographs back to its original three dimensional state, highlighting the quirky ways in which street vendors display their products. These 'human-scale' mom-and-pop shops can still be found amongst the skyscrapers of Hong Kong, but as the city sanitizes its streets and rents are rising, these traditional street vendors are increasingly at risk of dissappearing.
Below you can find the previous Hong Kong streetlines we created and published in collaboration with Stefan Irvine